Gift Certificate - $25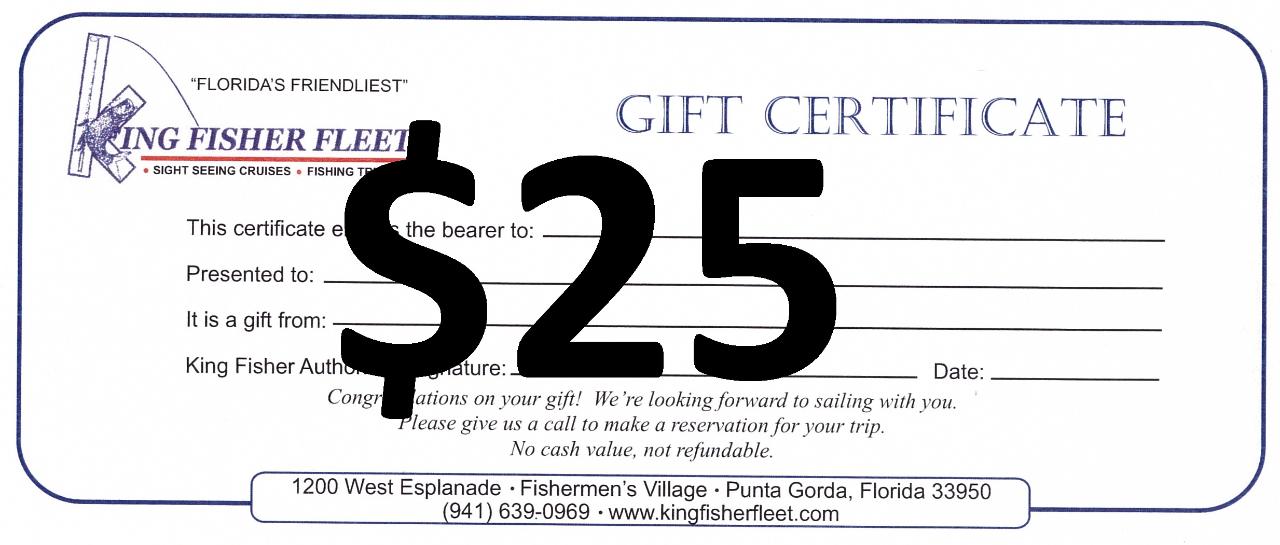 $25 gift certificate that can be used on any sightseeing cruise, fishing charter, or annual pass. Never expires.
King Fisher Fleet is not responsible for lost, stolen or damaged gift certificates, or unauthorized use. Unused value remains on certificate and cannot be redeemed for cash.
To redeem a King Fisher Fleet gift certificate that was purchased at kingfisherfleet.com, proceed through checkout. When prompted at check-out, enter your Gift Certificate Voucher Number where indicated. Note: Gift Certificates purchased at the King Fisher Fleet ticket office cannot be applied to an online purchase.
You cannot purchase a Gift Certificate with another Gift Certificate. If the amount of your total purchase exceeds the balance on your Gift Certificate, you must pay for the remainder of the amount. If the amount of your total purchase is less than the balance of your Gift Certificate, the remaining balance will remain on your Gift Certificate for future use. King Fisher Fleet Gift Certificates are non-refundable and are not redeemable for cash. No sales tax is charged when purchasing King Fisher Fleet Gift Certificates; purchases paid for with a King Fisher Fleet Gift Certificate are subject to applicable sales tax.
If you have additional questions, please contact King Fisher Fleet at 941-639-0969.